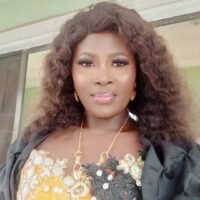 Treasurer, Central Working Committee (P4P)
PROFILE
Mrs. Wodu Nancy is the Central working committee (CWC) representative of the Bayelsa State Chapter of Partners for Peace (p4p) 2019-2022, and also been re-elected for 2rd term in October 11th 2022 as CWC Rep for the State. She is currently serving as the treasurer for theCentral Working Committee.
Born in Ojobo community of Burutu LGA of Delta State Nigeria, She had her primary education in Zuokumor primary school Ojobo in Delta state, and went to Army Day Secondary school in Bori Camp port- Harcourt but finished in Asaba Girls Grammar School in Asaba Delta State of Nigeria. She is a peaceable person who loves sincerity, and been at peace in any environs she finds herself in. Has high self-esteem, and also love team work and inclusiveness in all ramifications.
She attended the Niger Delta University, Wilberforce Island in Bayelsa State, and was awarded with a bachelor of science degree (2nd class upper) in political science. M.Sc. in view, (Public administration 2021 session)
Mrs. Wodu Nancy is an easy-going person and also has a good knowledge of the following e.g. conflict management, leadership, a trained incident reporting officer, Early Warning/Early Response Expert.
Mrs Wodu Nancy is also a Civil servant that works with the state High judiciary and she is also a member of the Rising Woman, Strategic Women of Nigeria, (SWON), People's Life Improvement Foundation (PLIF). Community partnership for peace development and justice (CPPDJ).
Mrs Wodu Nancy loves doing the right thing and achieving the right result.
Not to please men but to clear her conscience and be free from guilt.